The piccolo windchest of the PipeMare project is nearing completion. The valves have all been mounted and cabled inside the windchest: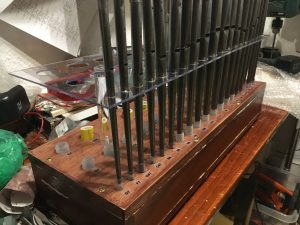 The first level of the pipe support rack is almost finished, although some adjustments are needed. Here is the finished windchest with some of the pipes mounted.
The pipe support rack is made of 3mm acrylic glass, and I sort of regret not using 5mm. The 3mm sheets are just a bit too flimsy and fragile, and I don't know how they are going to hold up, especially when we mount the second layer of supports for the larger pipes.