As mentioned in an earlier post, we need some preparation before the real testing of PipeMare and PipeWind can begin. While rewiring the EnsembleBot for a new global 12V A-side power scheme, it became apparent that the central power supply needed some maintenance.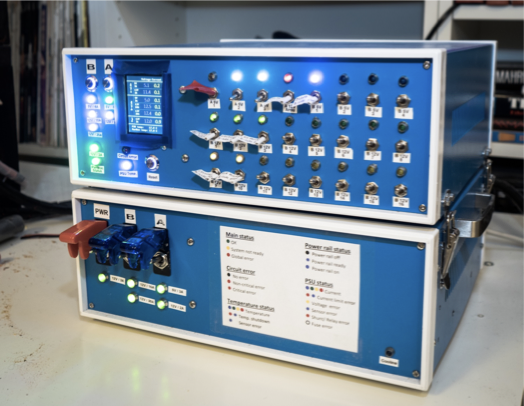 The power supply delivers and monitors power in two galvanically isolated power domains (A-side and B-side) and for different voltages and current demands. The power supply has 24 outputs, individually controlled from 24 switches on the front panel and 24 relay modules. This should work, but unfortunately the toggle switches used are of very, very low quality. So, thay have to be replaced, and while we are at it, their wiring scheme and LED indicators are improved.
NEW PIPES!
Even though we really don't need another organ, I was lucky enough to win an auction for a full rank of 4-foot wooden wald flutes. Combined with a rank of fifteenth (2-foot) flautino pipes from an earlier auction, there are some possibilities.
One possible project could be to buy a cheap harmonium/pump organ, and rebuild and expand it to include the two pipe ranks. This would probably mean replacing the foot-pump with an electrical pump and reservoir, tapping into the manual mechanics to activate the pipe valves (providing we opt for a more traditional, purely mechanical tracker-like solution), and – quite possibly – build the dual pipe rank windchest as a slider windchest.
However, as I have neither time nor space for such a project right now, this will probably remain a pipe dream for some time.